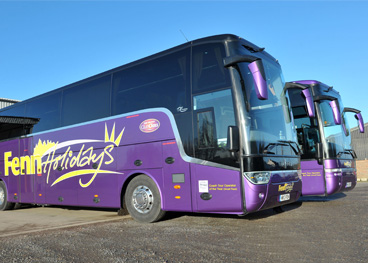 To all who have travelled with us before, welcome back and thank you for your continued custom. To those visiting us for the very first time, welcome to Fenn Holidays.
We have been providing top class coach holidays and a service which is second to none for over 40 years. As an independent, multi award winning company you can be sure that Fenn Holidays will take care of your comfort, safety and enjoyment from the initial enquiry, throughout your holiday, right up to the point when we return you to your home.
Our superb Club Class coaches are unsurpassed in every way. We operate Van Hool Astron TX17 models. These striking touring vehicles are built to our own specification and boast unrivalled comfort and legroom. Although 14 metres in length, they are fitted with just 48 luxurious seats, thus doubling the legroom to that offered on most standard coaches.
We are fully aware of the importance to the enjoyment of your holiday experience that staff can make and, to this end, we are extremely proud to say that ours are just the best in the business! Each of our holidays is accompanied by one of our superb crews consisting of an experienced tour driver and tour escort, both directly employed by us, and most of whom have been part of the 'Fenn Holidays Family' for many years.
So if you're considering one of our holidays for the first time, please take into account that we offer COMPLETE holidays with NO HIDDEN EXTRA'S and we know that our collection offers the BEST value for money and service around.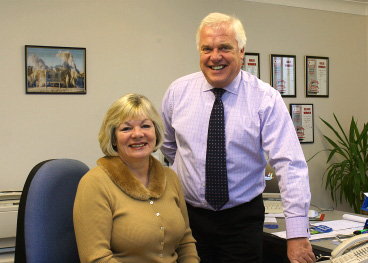 Peter & Margaret Fenn
When our first holiday programme was launched, back in 1988, we were determined from the very beginning to offer a coach holiday experience which was second to none, we wanted not only to take our customers to some of the best holiday locations in the UK and across the continent but also to guarantee them a comfortable and relaxing experience from the moment they left home to the moment they returned home. This is exactly what we've been doing ever since!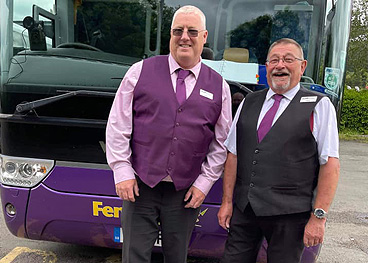 A Great Fenn Crew!
Every Fenn Holiday is accompanied by one of our superb crews, consisting of an experienced tour driver and a tour escort directly employed by us, most of whom have been a part of the Fenn Holidays family for many years.